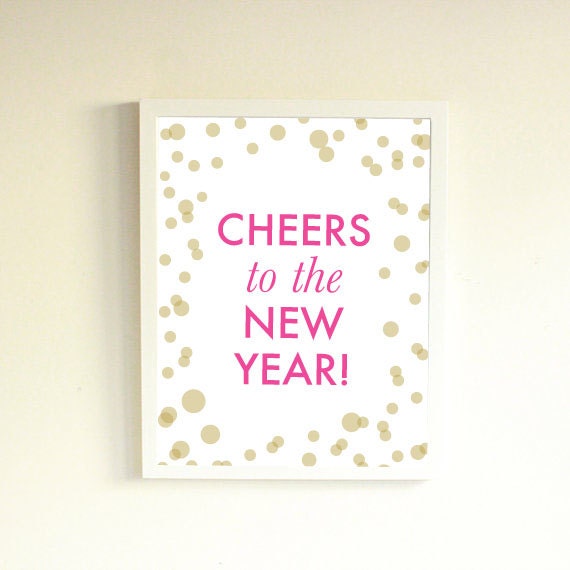 Happy New Year!
I am thrilled to welcome in a new year. Even though I know it's really just another day, it's the classic fresh start, like a giant reset button. I think it's great to take a good look at where you are and make a plan for where you'd like to end up. It may not work out completely, but having a goal in mind at least gives you a starting point and may make you feel a little more accountable throughout the year. Having looked back at 2013
yesterday
, it's time to look ahead to the coming year and the things I would like to accomplish. Unlike last year my list this year is mainly business-based. I'm hoping to make more efficient use of my time and be able to grow the business this year.
1. Spend less time in front of the computer. (sub-goal: stop looking at gossip sites.)
This may seem completely counter-intuitive first goal given the fact that I am running an Internet-based business that, by definition, requires lots of computer time, but I find myself glancing at my computer every time I walk by it, or hanging around it looking at nonsense like
People
magazine online. I would like to cut out a lot of the junk computer time this year. I would like to make my online time more productive, possibly setting aside specific time in the day for emails and convos, for finding and ordering supplies, for listing items, and for writing blog posts. Which leads me to item #2:
2. Find a clear direction for this blog.
In my mind, I know exactly what I want this blog to be and how I want it to work. I can envision the content and the beautiful photography and sleek design. Putting it into action is a whole other thing. The problem is I have never felt like this blog falls into any particular category, so I'm hoping to determine my purpose here and define some sort of theme and stick to it for the most part. (That's really clear and decisive, right?)
3. Maintain the shop at over 100 items.
I have the hardest time keeping up the amount of inventory in the
Milo and Molly
shop.
It usually hovers between 50 ad 75 items, but I would like to beef up the amount of each of my products, to hopefully become more searchable, and just because I have so many ideas that I want to put bring to life. So, I would not only like to get up to 100 items, I would like to keep it there.
4. Branch out locally.
This is a tough one for so many reasons. First you have to find places that might want to sell your stuff. Then you have to get them to sell your stuff. (I am not an outgoing person. Talking to people I don't know is scary and anxiety-inducing. Talking about stuff I make is even harder- I'm sure it shouldn't be, but I have a really hard time explaining what I do, so I generally feel like I end up sounding like a bumbling idiot.) You have to decide if you want to try to sell wholesale, or if you are okay consigning. You might consider contacting local media outlets, you might look into your own retail space. You might try to find local craft shows, which can be a crap shoot as to which will be the most successful for you. This is exhausting for me to even think about. But, I think it does help when people can actually look at what you're doing and can see and touch your product so this is something I want to start investing some time in.
5. Join a treasury team on Etsy.
I would love to see one of my items on the front page of Etsy. I really, really would. So I decided that this year would be a good one to join a treasury team. Belonging to one of these teams helps get you into more treasuries and the more treasuries you are in, the better your chances of front page exposure are. Now I just need to find the right team. I actually tried applying to one of the very exclusive treasury teams on Etsy but got denied because my items were too similar to those of others on the team. So I am sure that will be a process but I hope to find a good fit. This works directly into the next goal:
6. Improve product photography (again).
This is a constant work in progress, and though I feel like I've already come a long way, there's always more that can be done. Clearer, brighter shots, artfully styled, beckoning shoppers to click on them, or give them a favorite- that's my hope.
****
I have my work cut out for me, that's for sure, but I'm excited to see what the year holds. What are your goals this year?