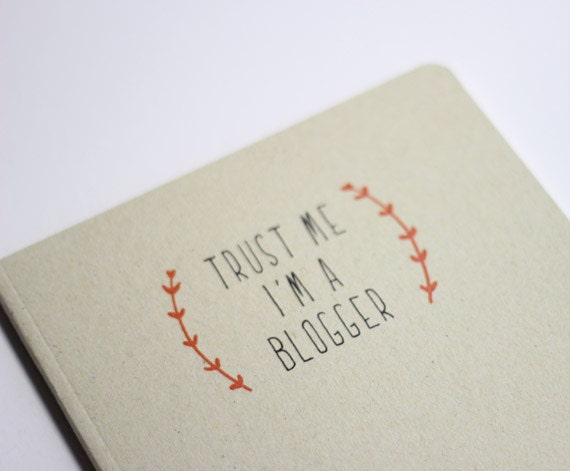 I have a crafty business that I am trying to grow, and one of the things you need to do in order to get customers is promote your business. This can be a tricky task: Where do you promote? How much do you want to spend? Will more money yield more views? Do you focus locally or online?
For many Etsy shops and bloggers, they turn to other bloggers and their sponsorship programs, where an ad on a popular blog may bring views and sales you may not get otherwise. You are hoping by advertising on a blog that people who may not already know you will get to know you, thus branching out to a new audience. This is also a tricky task.
Sponsorships can vary from free ad swaps to ads costing hundreds of dollars depending on the blogger. In general, the bigger and more popular the blogger, the more money you will need to spend. But in theory those bloggers have more readers and you will be reaching more people at a time. So does it work?
For this past Christmas advertising season I decided to seek out a few blogs that I thought would be a good host for my products, some based on recommendations, some based on my following of them, all based on how responsive their readership seemed to their posts. Of all the bloggers I contacted, only one declined and only one deal I made fell through, leaving me with a hole too late in the season to fill. Plans were made, questions were answered and posts were posted. The results?
Honestly, not much happened. On the day that things were posted, there was some decent traffic to the shop, but nothing stellar. If there was a giveaway, then there were some new follows. But all in all, not one coupon code was used, not one sale was netted. And that's the risk you take. In talking to other shop friends who pay for blog sponsorships, the results are mainly the same. The problem is, you never know who another person's audience is going to connect with.
(Let me be clear: this is not to say that these are bad people who didn't live up to their end of the deal. It's not that at all. I am
not
slamming the bloggers I worked with- they are amazingly nice people who opened up their blog to let me in and I'm happy to have chatted with them and worked with them, and I totally appreciate all their effort. All I'm saying is it didn't work for me, and that happens.)
Here are some things I've noticed, and others have noticed:
Blogs advertising is dependent on the blogger herself. One friend paid for a few months' advertising, only to have the blogger tell her sponsors she was taking a blogging break. Another friend paid for a pricey sponsorship and wasn't promoted beyond the ad. Another sent products to be reviewed and they never were, though the products were kept. Several noticed that in the month they paid for advertising, the blog changed tracks and started down a different path. It happens. We're all human and we all have things going on in our lives. For most people, blogging isn't the #1 priority, and that's okay, but it might mess with someone's advertising plans. (This is why I no longer take on sponsorships- I wasn't consistent enough to be effective.)
So what can you do? Honestly, I probably won't pay for blog ads anymore because it hasn't worked for me. So many people I know skip over the sponsorship posts on blogs. I do it, so why am I surprised that advertising didn't work? Why would I think it would be different just because it
my
product? I actually get the best feedback from people who show off my products naturally. For example, I got two sales from an Instagram shout-out from a popular blogging friend who took a picture of herself wearing one of my scarves. That was an amazing result from a very organic post. This is to say I like connecting with people, and so I'm going to continue to try and focus on that, and not go a route that can seem forced. If people like my products, they'll share and show them off, and that's the best thing I can ask for.
Have you had a similar experience?