Be Yourself.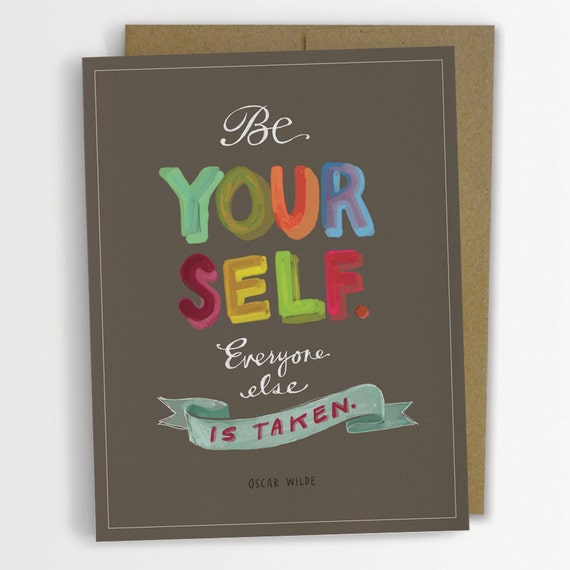 I was washing the dishes last night when I realized that the next day would be Monday, which in Blogland is the prime posting day. You generally start off on your best foot on Monday- when everyone is back to work and back to their computers- with something big and important to share and then work your way into the week. And so as I was standing at the sink I realized that I had no posts ready to go, and the posts that I do have in draft aren't nearly ready, and I didn't have anything great there to share with you. And with that statement, let me explain.
In my blogroll right now are some large blogs and some small blogs, almost all ladies who post rather frequently, with lovely content meant to teach you something new, show off a great product, give you the top 5 best whatever, and explain to you how to blog and use social media to the fullest. I realized last night that I have no such type of post in the works and there would be no time to whip up something at that point of the day (or probably the next day and the next day), so Monday was going to be a wash this week. But then I got to thinking about it, my mind wandering as it does when I'm doing any sort of mindless task like dish washing, and realized that said blogroll has probably ninety percent posts like the ones above. Everyone seems to be out to offer up a quick DIY, provide you with the top nail polish colors of the season, explain to you the latest and greatest app to make you a better blogger, and enthrall you with pretty pictures taken on the perfect weekend away.
But what I find that I am lacking in those blogs, ones I find myself skipping over day after day, are the personal posts. And I don't mean in-depth personal/deep dark secret territory, but just hey-how're-you-doing-posts that talk about what they're up to, what they're thinking, how they're feeling about something. In this Pinterest-driven world of blogging for money and secretly hoping to score a book and/or movie/television deal, everyone is out to be an expert on something (or everything). And while I love a nice tutorial and I probably need some tips on using social media properly, when it's nearly every single post nearly every single day, it starts to feel lacking and forced, as though every post needs to present with some awesome information.
I miss reading posts getting to know the blogger behind the blog. If I discover a new blog I think I may want to follow (and I do take some of Bloglovin's suggestions) I want to find out something about who's writing the blog. Sometimes I can tell right away that I'm not going to be interested in what the blogger is talking about, but then there are some blogs that are so visually appealing that I'm sure I want to keep following even though I have no idea who's behind the words and the pretty pictures. So while I still want to offer a mix of content because I think it makes for a more interesting blog, I do plan on trying to write some more personal pieces. I don't plan on doing sponsored posts any more, and I don't plan on having any/many guest posts unless it's something that really jives with my blog. And overall, I think that's the best way to get to know me and be engaged with me and what I have to say.
Does anyone else find that these "professional posts" are becoming the trend? Do you like to read them or do you find them lacking? Can you share a great blog that you have to follow and read a new posts right away? (Two of my favorites are
Little Nostalgia
and
Betsy Transatlantically
.) I'd love to hear what you have to say.