It's the end of another crazy busy week! Can anyone else believe how fast this summer is going? Didn't August
just
start?? Let's slow down a little bit and check out some Pinterest picks.
via
I'm trying to convince my husband that we need to finish the space over the garage so I could have a workspace with a separate entrance. He's totally on board (in his head) so expect to see the finished product in about 10 years or so. But seriously, look how nicely this over-the-garage space is. If it's big enough to hold a bed, it's big enough to hold my cutting table and some fabric.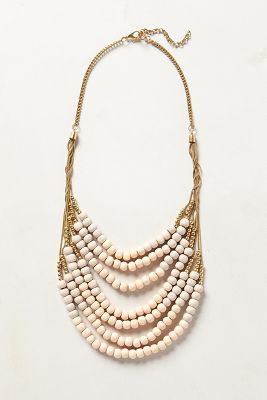 via
Anthro does it again! Pretty, pretty wooden beads layered on simple chain. This would be so nice dressed up or dressed down and the neutral colors make it super-versatile.
via
Yes, please. This looks like such a simple yet perfect taco for a quick and easy dinner, and I'm sure the mix of flavors would be amazing. Plus, it's vegetarian, which is a win for the non-meat eaters (we'll add some chicken over here).
How to tie your scarf with sophistication- actually 7 different ways if you click the link. I'm always looking to spruce up my scarf tying, and it seems we are going to be into scarf weather sooner rather than later. (And actually,
this link
to help for clothing woes is wildly helpful. Thanks,
Buzzfeed
!)
via
Holy gorgeous cabin kitchen, Batman! I love everything about this, especially the hood vent on the stone-faced chimney. I'm hoping there is more counter space (and a sink?) if you continue to pan to the right, but what an amazing space for entertaining. If you click the link, there are 63 other gorgeous kitchens to peruse. You're welcome.
via
This is going to come in handy around here one day. Offering up random chores that need to be done for a small amount of coin is a great idea, and once the kids can sufficiently read and understand what money is and does for them (toys!), this is going to happen.
I hope you all have a great weekend- anyone have any interesting plans? I think we'll just be hanging around for the most part, which is the norm around here. It's just nice when everyone's home together.
To see what else I pin, feel free to
follow me
!
Follow me on Bloglovin'