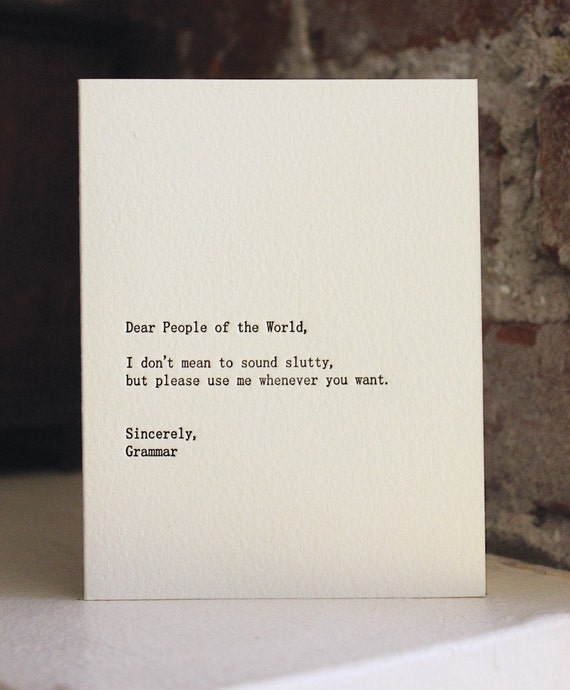 May we talk for a minute? About grammar, and its complete lack of use? How frustrating it is to read things online only to trip over misspellings and punctuation marks used in the wrong place (or not at all). It drives me crazy.
*When I was in college, one of the requirements to continue in the elementary education program from junior to senior year, when student teaching would be done, was to pass the first part of the state teacher test, which was a reading and writing fluency test. One girl in my class didn't pass. Twice. And she was really, really mad that the school wouldn't let her continue on. I mean, who needs to be able to read and write to teach? (P.S. One portion required you to copy a paragraph verbatim.)
*The other day I stumbled upon a typography art print on Etsy- I'm not even sure how I found it now- and one of the words was spelled wrong. Or rather, the person had used the wrong version of two words that sound the same, like "there" and "their". And as I'm bringing my hand up to smack myself in the forehead, I read the listing and it says something along the lines of, "It has been brought to my attention that this word is misspelled, so if you'd like it with the correct word, just put that in the Notes to Seller." You can order it right or wrong! How wonderful!
*I found this on Pinterest, and I relate to this so much.
Actually, I relate to a lot of those. I guess I am a nerd. But really, I read my posts three or four (or more) times before I publish them because I want to make sure it's correct. Occasionally I miss something though, and I catch it later, and I cringe, wondering how many people saw it.
*Not exactly grammar related, but it bothers me when people make fun of people with accents, especially thick accents. Just because you can't understand them does not make them stupid.
*Let's talk about how English gets warped, and it becomes okay to use words like "cray". Really? It's only saving you one letter. Do you really want to rid yourself of all writing and speaking respect by using that word? I have unfollowed bloggers for this. I actually searched Pinterest to see if maybe I could find a graphic to illustrate my point, and I found no less than 1000 or so hits with the caption "
cray
". This also goes for "girl," as in "Oh, girl, you know what I'm saying." Unless you are Ryan Gosling telling me it's okay that I bought more fabric, I think we should also let this one pass on.
Really, all this is to say is that I think that good grammar is really important, and everyone should use it. It makes a person and a society look intelligent, and how bad can that be?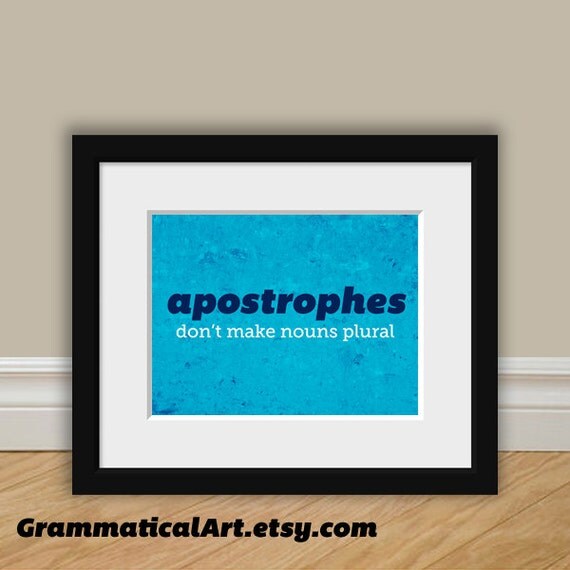 *Also, I want one of everything in
this shop
. So, so, so clever.